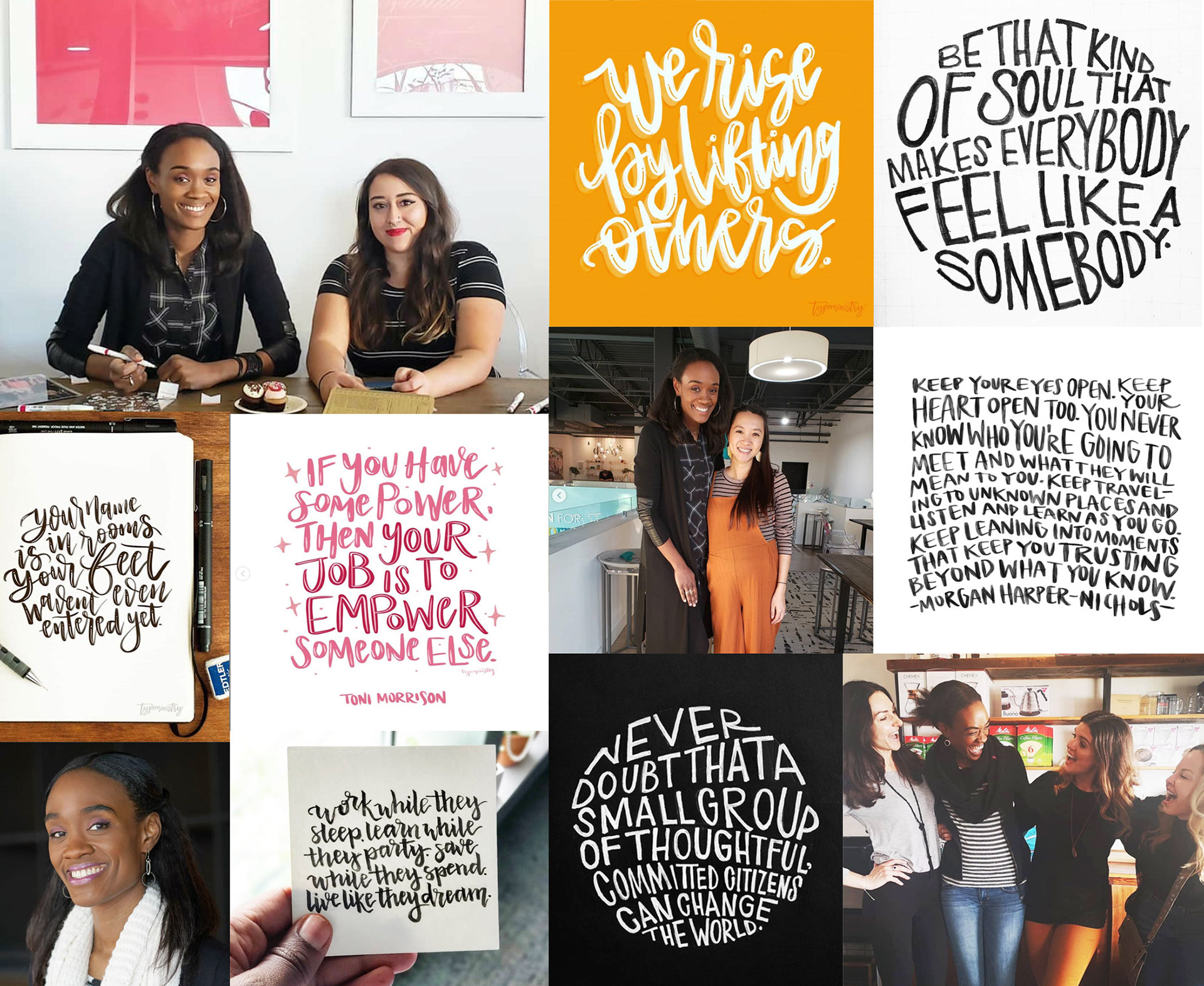 Clarice's roots lie in drawing, painting, lettering, and solving design problems

—

her work is guided by this unique collection of visual arts.
Clarice G. Bajkowski is an Austin, Texas based art director and brand designer who has been recognized for her strategic thinking, consensus building, and ability to integrate social issues into immersive, data-driven, customer-centric experiences. Over the course of her career, she has worked at the intersection of story-telling and user experience for the arts, continuing education, and tech industries. As a creative lead, Clarice has been regularly involved in marketing efforts, authoring design languages and frameworks, pitching concepts to producers, commercial agencies and their clients. She's led highly collaborative teams - consisting of artists, writers and developers - to iterate and deliver work for some of the most demanding clients in the business including Microsoft, Dell, HP and Expedia.

Clarice's work continues to reflect her continuing interest in the interchange between research, design, commerce and culture as well as her belief in the importance of sustainable and human-centered design practice.
Currently, Clarice is serving as creative director for

The 19th

leading brand strategy and communication design. When she's not immersed in building 
human-centered creative for underrepresented and underserved communities
,

you can find her writing and designing for her motivational typography project, TypeMinistry
™
.
Abilities
Thrives in highly dynamic, highly talented, diverse environment across various organizations and geographies
Proven ability to lead and deliver world class design
Excellent collaboration skills
Compelling presentation and proposal skills + excels at executive level communication
Experienced Change Agent + Consensus Builder
Boundary-spanning design
Specialities




Creative strategy + Ideation


Digital design + Marketing (B2B, B2C)
Experiential Design (End-to-End)
Editorial and book design
Custom Typography



Published work


PRINT Magazine
Tribeza
Texas Monthly
Black & White Magazine
Celebrate Austin
The Austin American-Statesman
Austin Business Journal
Built in Austin



Honors & Awards





Guest Letter Artist, EC Flagship Store @ Domain Northside




Jan. 2019  |  EC





Guest artist for a private event for Instagram influencers.





____
2019 Culture SuperStar Award


Feb 2019  |  HomeAway
HomeAway's 'Cultural Superstar' award is a peer-nominated award that recognize employees who've embodied one or more of our values in their daily work or on a particular project.



Guiding Principles:


Put Yourself in the Shoes of our Customers and Partners
Be Open and Honest

"Clarice worked tirelessly on 2018 Partner Summit design assets. She collaborated with many people on this work, which was a massive undertaking (as it is every year). She remained open, honest, and positive even under stress, and used her own professional knowledge to shape the creative direction. Her designs were both beautiful and customer-centric, and reflected our brand without being a facsimile of other design work. It's an honor and a pleasure to collaborate with someone so skilled in both design and communication.
____





2018 Spot Award, Partner Communications


Oct 2018  |  HomeAway

Recognition for employees that have made a big difference and demonstrated our values by jumping in to help with a small project. This award centers around the on-the-spot efforts that positively impact customers or colleagues.
____





2018 One Team Award: Premier Partner Team


May 2018  |  HomeAway
One Team Award recognizes groups that have collaborated together exemplifying heroic efforts and extraordinary drive, resulting in game-changers which have helped enable the business. The Premier Partner Team delivered an impressive MVP solution for Premier Partner's initial US launch ahead of the Honolulu Partner Summit and a subsequent World Wide launch in early December. They broke down barriers demonstrating Openness, Participation, and Mastery to understand the end-to-end solution, creating the first reward-based program in our Marketplace Design.
____





2016 Print Regional Design Annual Winner


Oct 2016  |  PRINT Magazine

Selected as a winner in the 2016 Print Regional Design Annual (Southwest Region), with the Spiceworks "Data Makes My Heart Beet!" Research & Data package for tech marketers.
____





2016 Built in Austin Spotlight: "How to build an office employees love"​


Feb 2016  |  Built in Austin